Full Mouth Implant: Advantages, Treatment Process
Full mouth implant application is one of the preferred treatment methods in case of complete toothlessness of the patient. A full mouth implant is applied if the patient is completely edentulous or if all of his teeth are extracted for a certain reason.
Since almost all patients want to have fixed prostheses in case of complete edentulism, this treatment method, which has useful and advantageous aspects, is preferred. In order to achieve the most successful results in full mouth implant treatment in a short time, experienced dentists and well-equipped clinics in this field should be selected.
What is Full Mouth Implant Treatment?
Full mouth implant application, as the name suggests, is a fixed prosthesis treatment that covers all the patient's teeth. This treatment, in which all teeth in the mouth are renewed and turned into fixed prosthesis on implants, has many advantages. In this method, missing teeth can be replaced by surgical tools such as bridges and crowns placed in place of implant screws.
Full mouth implant treatment may be preferred in order for patients whose teeth were extracted for a specific reason to have speaking and chewing skills without reducing their quality of life. Full mouth implant treatment is completed with fixed prostheses that provide long-lasting use like natural teeth. Implant treatment, which offers an aesthetic appearance when viewed from the outside, also helps to clarify facial lines.
When brushed regularly, it is not possible to experience any problems caused by full mouth implant treatment.
Who Can Have Full Mouth Implant Treatment?
Those who have full mouth implants are generally people who suffer from complete toothlessness. In cases where the patient is missing all of his natural teeth, this method may be preferred so that he can have new teeth as naturally as possible. In this way, patients can have healthier speaking and chewing skills while also meeting their aesthetic expectations in the best possible way. Apart from this, people for whom full mouth implant treatment is recommended are:
Those who have many missing teeth
Those with a large portion of their teeth badly damaged
Those with multiple teeth treated with multiple root canals and crowns
People who cannot provide adequate oral care
It is possible to achieve very successful results in a short time with full mouth implant treatments performed by specialist dentists. People who are looking for a fixed prosthesis because it is durable and permanent can choose full mouth implant treatment. You can choose our dental clinic, which has been providing satisfaction-oriented services and treatments in this field for many years, with peace of mind.
What are the Advantages of Full Mouth Implant Treatment?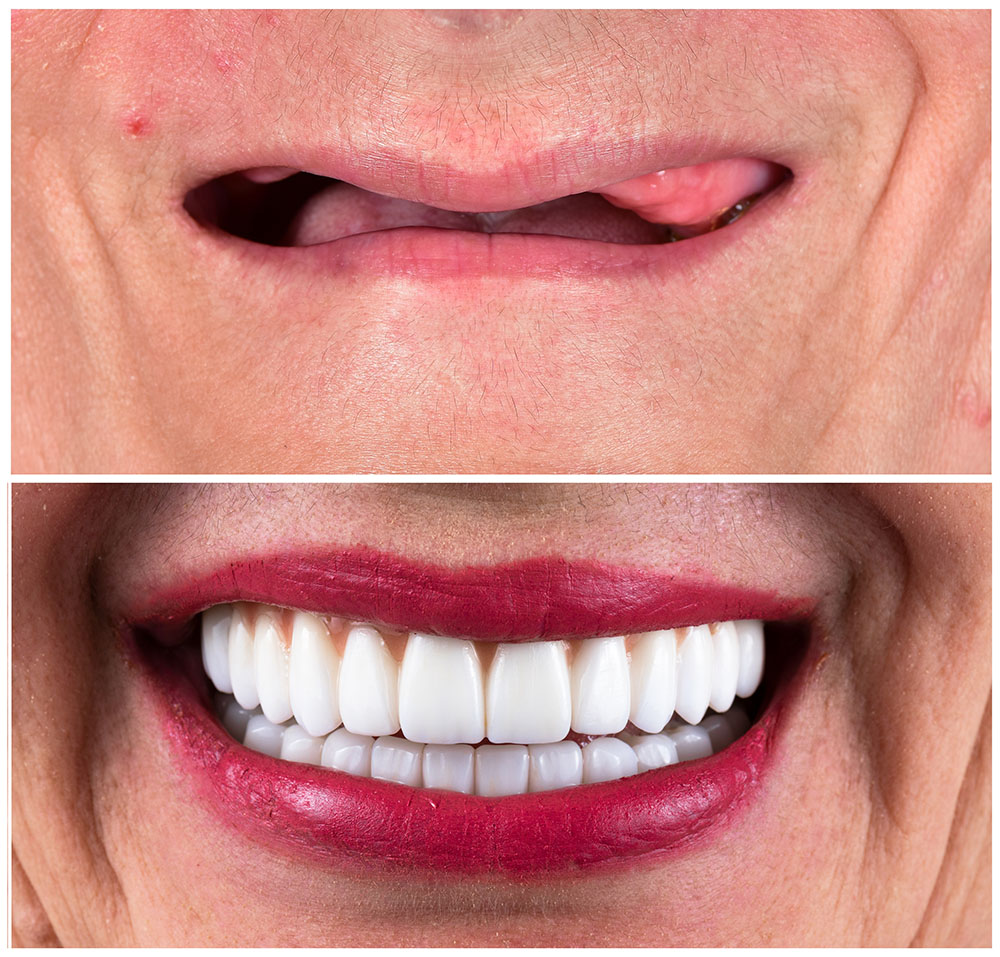 Thanks to the advantages of full mouth implants, patients can benefit from many benefits both physically and psychologically. Since implants are placed in the jawbone, they have many advantages in jawbone and chewing performance:
It reduces the patient's risk of bone loss. The implant attached to the jawbone significantly reduces the risk of bone loss as it preserves the size and volume of this area.
Since it preserves bone height and volume, it prevents the lower part of the face from looking old and wrinkled.
Thanks to implant-supported full mouth dentures, it provides an aesthetic appearance as the necessary fullness is provided in the cheek and lip area.
Speech quality improves much better than other treatment options.
It provides the most appropriate speaking ability as the complaint of lisping will be observed when the missing teeth are not replaced.
It provides ease of eating as it has better chewing efficiency.
Despite the need for frequent insertion and removal and maintenance of dentures, full mouth implants are much more comfortable.
Since it is a permanent restoration, it can be used for many years and a lifetime if oral hygiene is taken into consideration.
As the patient's speaking and chewing quality improves, he/she renews his/her self-confidence in life.
In order to get the best results in full mouth implant application, which significantly improves the quality of life, experienced dentists should be preferred. It is very important for dentists to start full mouth implant treatment using the most ideal methods and materials for the patient to achieve efficient results.
Therefore, in order not to leave your job to chance, you can get professional support from our experienced dentists working in our clinic for full mouth implant treatment.
How is Full Mouth Implant Treatment Done?
When performing full mouth implant treatment, the patient's medical history is first examined and a comprehensive examination is required. In this process, implant planning is completed using 3D x-ray and tomography devices.
The specialist dentist determines which diameter and length of implant to choose by making certain measurements. After the analysis is completed, the patient is given local anesthesia and full mouth implant treatment is started.
The procedure is completed after the implants, which are placed on the jawbone under the teeth, are placed in their sockets and fused.
Following this operation, fixed prostheses are placed and full mouth implant treatment is completed. To achieve successful results, it is necessary to get support from experienced dentists.
Are Full Mouth Implant-supported Dentures Durable?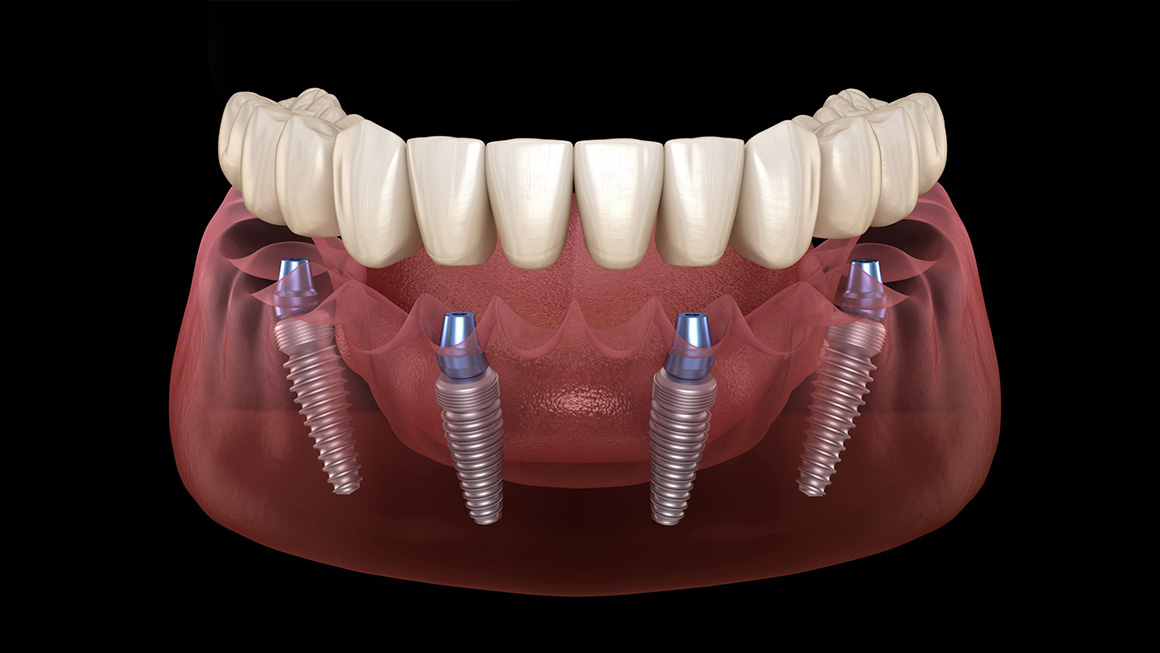 You do not need to worry about the durability of full mouth implant-supported dentures. Because the materials used in full mouth implant treatment are the strongest and have the longest lifespan among fixed dentures.
If regular dental and oral care is continued, it can be used for many years without any problems. People who do not neglect their oral care after treatment can use full-mouth implant-supported dental prostheses almost for a lifetime.
What is Single Stage Full Mouth Implant Treatment?
Single application full mouth implant treatment is generally preferred for patients who do not want the waiting period. However, in order to obtain successful results at this stage, the patient's jawbone must be compatible with certain conditions.
When performing a single-stage full mouth implant, the implant and abutment are placed in one step. Although the application becomes simpler in this way, there may be problems with the negative loads that may come on the implant during healing.
Therefore, experienced dentists should be preferred in this method, which may even cause implant loss.
What is Two-Stage Full Mouth Implant Treatment?
Double-stage full mouth implant treatment is a process in which the gum is cut open, the bone is drilled according to the size of the implant and the implant is placed. After this application, the gum is stitched and the implant is waited for fusion. After the implant fuses to the jawbone within an average of 1-3 months, the gum on the implant must be opened using different techniques.
The two-stage implant treatment is completed by placing the crown structure on the gum opened with the help of laser, a small incision or punch.
After this procedure, which is performed in a clinical environment and by specialist dentists, nothing is visible in the oral cavity. After the second surgery, when the abutment with gum shapers or implant abutments is attached, metallic extensions can be noticed in the mouth.
What Materials Are Used in Full Mouth Implant Treatment?
The materials used in full mouth implant treatment are selected from materials that are both long-lasting and will improve the patient's quality of life. In implant treatment, which has been used in dentistry for many years, the materials most compatible with the human biological system must be selected.
For this reason, titanium and its alloys are used because they are very compatible with human tissue and fuse very well with bone. Today, in addition to implant materials made of titanium and its alloys, zirconium implants are also becoming increasingly common. Therefore, titanium and zirconium materials are generally chosen for full mouth implant treatments.
Get Free Quote :
If you want to get detailed information about our dental treatments, you can contact us by filling out our consultation form or on our whatsapp line +90 5443480787 You can get information directly . Our doctors will plan the most appropriate treatment for you and provide detailed information.