All on 4 Dental Implant Treatment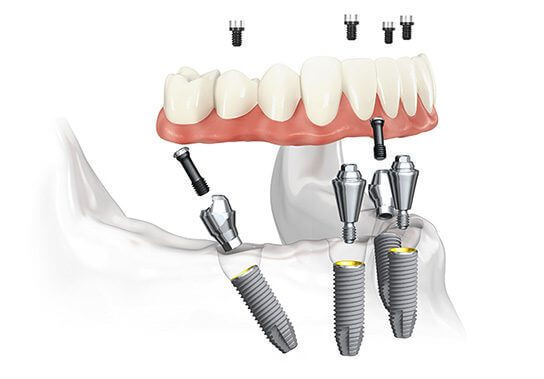 All on 4 Implant Technique
Mouth and dental health; It is the most important factor that determines the quality of life and the pleasure one gets from life. Dentists, on the other hand, have developed treatment methods such as prostheses or implants depending on the needs of the patient.
The patient's needs play a decisive role in the treatment. Patient satisfaction is taken into account in the treatment method applied.
The person's ability to enjoy the food he eats, to meet his food needs correctly, and to perform speech functions fully depends on oral and dental health.
For patients who have lost their teeth and have problems such as taste, speech, excessive pain, and eating, implant is one of the methods that will replace the missing teeth with artificial teeth.
Implant treatment is a long-term and high-cost system for patients who have no teeth left in their mouths.
Sinus lift is a fast and effective solution for patients with bone augmentation or bone deficiency who need advanced surgery, using the All on Four implant technique instead of the implant.
Who can apply the All on 4 implant application?
One of the frequently asked questions is who can benefit from the treatment applied with the all on 4 technique. First of all, let us state that patients who have lost all their teeth can benefit from this treatment. However, prosthetic teeth can be applied with this technique when the remaining teeth that have lost most of their teeth must be extracted.
However, of course, it is necessary to extract the remaining teeth before the treatment. Let us also convey the information that this treatment is recommended especially for patients with high bone loss in the back of the lower and upper jaw. It is very important that patients are starting to use temporary dentures. In this way, speech and feeding problems can be prevented, and patients with bone loss can also benefit from prosthetic tooth application with peace of mind.
If various problems such as gingival diseases are detected in the examination performed before the treatment, first of all, a treatment is applied to eliminate these problems. If you consult your dentist, you can get information about whether this treatment is suitable for you.
What are the stages of the All on 4 application?
A detailed radiological and clinical examination is required first of all for the patients who are planned to undergo an All on 4 application. A suitable planning is carried out by making measurements according to the result of computerized tomography.
All on 4 application consists of two main parts as surgery and dental prosthesis. On the first day of the treatment, 4 implants are placed in accordance with the planning, and then the temporary dental prosthesis is fixed on the dental implant. Permanent dental prostheses are made 3 months after the surgical intervention.
What are the advantages of All On 4 implant application?
It allows fixed dental prosthesis to be made with a single surgical intervention on the same day for patients without teeth.
Dental implant insertion operative time is shorter.
Since the number of implants is small and does not require additional surgical procedures, the cost is lower than conventional dental implants.
Cleaning and maintenance are more comfortable than conventional fixed dental prostheses on dental implants.
Since it is specially designed for the patient, it provides you with an aesthetic appearance.
It is suitable for patients who have problems with removable dentures.
Since its design is different from full dental prostheses, it does not cover the palate and is easier to use.
Should I be afraid of the All on 4 app?
All on 4 treatment is easily performed under local anesthesia. In patients with high anxiety and fear, treatment can be completed under sedation or general anesthesia.
How Should All On 4 Care Be?
Of course, the care of prosthetic teeth should not be neglected in the treatment performed with the all on 4 technique. Taking care of mouth and teeth cleaning is one of the elements that must be emphasized. Specially developed materials can be used for prosthesis care and cleaning. With the help of these materials, dentures can be taken care of.
At the same time, it is inconvenient to try to break or chew very hard objects with teeth. Although dentures are produced using solid materials, it should not be forgotten that there is a risk of breakage or cracking, just like real teeth.
You can get detailed information from your dentist about how the care should be after this treatment and what it is important to pay attention to.
If you want to talk about your implant treatments, you can contact us free of charge via whatsapp.