Full Mouth Implant in Turkey
What is a Full Set of Teeth Implant?
Dental implants are one of the most frequently used methods to complete missing teeth in recent years. This method, also known as dental implant, can be shown as an advanced alternative to bridge and dental prosthesis applications that have been used much more commonly in the past years.
Full Mouth Dental Implants (Full Mouth restorations)
When you lose all or most of your teeth, the treatment you need is full mouth dental implant surgery. When implants are placed in the jawbones and fixed on it with fixed bridges or permanent prostheses, they act as a root.
What is Full Mouth Implant Treatment?
People may experience tooth loss in the mouth for different reasons. Tooth loss occurs as a result of increased tooth loss. The treatment to be done instead of too much tooth loss is called full mouth implant. Full mouth implant treatment is planned to make 6-8 pieces in the lower jaw and upper jaw.
The number of implants applied to our patient also helps to determine the type of prosthesis. In general, when we use 2 or 4 implants, we apply a removable prosthesis. When we use five or more implants, we apply a fixed prosthesis. However, unlike the five implant applications, it is performed on fixed implant prostheses with 4 implants. The treatment application in which 4 implants are used for fixed prosthesis is called All In Four.
Who is Implant Treatment Applied to in Complete Toothless?
Correct diagnosis is very important. In this respect, our specialist doctors first determine the current situation with x-ray and first examination. Afterwards, our patients are told about their condition and the most appropriate treatments. Full mouth implant application is applied to everyone who is adult and has no teeth in their mouth.
Advantages of Implant Application in Complete Edentosis
Fixed or removable implant prosthesis is applied in implant application in complete edentulism. These implant-supported prostheses provide our patients with psychological support and self-confidence, as well as ease of use.
It is performed easier and faster than other implant treatments.
Implants heal faster after treatment in complete edentulism.
Problems are intervened more easily and quickly.
They look aesthetically beautiful and natural.
Our patients have the appearance of real teeth.
What To Do If There Are No Teeth In The Mouth?
If there are no teeth in the mouth, the implant is applied. However, the issue here is not an implant for every tooth. Although this is possible, it is not healthy. Because the small amount of bone between the two implants negatively affects the health and life of the implant.
What can a patient with no teeth in the mouth eat after implants are placed?
Care should be taken after the operation. After the implants are placed, the diet should be changed until the fixed prosthesis is placed on the implant. The following foods can be consumed in this regard: Fruit puree, soft foods, banana and peach, pumpkin puree, yogurt with fruit puree and non-hot vegetable soups.
What should be considered before getting a dental implant?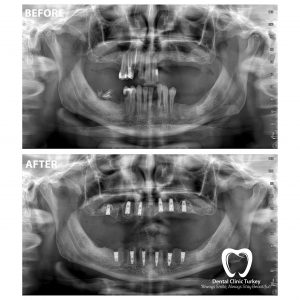 The quality of the bone is also one of the factors affecting the success of the implant. In addition, before the treatment and as long as the implant remains in the mouth, the gums must be completely healthy.
Bone structure is one of the most important factors affecting the success of the implant application. The person must have an appropriate bone tissue for the implant. Detection of bone tissue should be ensured and then implant planning should be done. Before the implant application, clinical and radiological examination must be done.
If the bone structure and general health of the person are suitable for the implant, there is no upper age limit. Health is a much more important factor than age.
Smoking can increase the risk of infection, especially during early recovery. Smoking is not recommended for this.
The lifespan of implants depends on many factors. Implants can be used for a lifetime by providing the patient's oral and dental general care and protecting his health. In terms of the life of the implant, it is necessary to brush the teeth correctly 2 times a day, to use dental floss and mouthwash regularly.
The experience of the physician who will perform the implant application is very important. It should be noted that the dentist is trained and experienced in his field.
If the implant decision has been made, a good research should be done on this subject and the right physician should be found.
Can Temporary Teeth Be Made While Implants All Teeth?
Temporary teeth can be made within how long it takes from the start of the full mouth implant treatment to the end. However, at the end of your implant surgery treatment, you may be asked not to use this temporary prosthesis during the week when your tooth measurement is taken. For the other three months, you can use your temporary dental prosthesis to complete the aesthetic appearance.
Fixed temporary prosthesis can be given for the lower and upper jaw when the bone condition is suitable, while the use of fixed temporary teeth is not suitable for our patients with loss of bone level (especially if additional applications such as sinus lifting etc. have been made). In such cases, we provide a removable (movable) temporary prosthesis instead of a fixed temporary tooth. However, do not forget that this situation is temporary and is necessary for the healthy healing of your implants.
How Long Does it Take to Make a Full Mouth Implant?
The treatment and duration of treatment to be applied for each person is different. How many implants can be made for our patient is determined only by clinical examination. To give general information, the width of the jaw, the closing shape of the lower and upper jaw, and at least as much, perhaps more importantly, the bone volume are determinants. The patient's wishes and expectations also affect the number of implants to be made. If you want to get information about how many implants you will need, you can come to the examination by making an appointment. You can apply from the contact page to spare time and get an opinion for your lifetime implant treatment.
Implants are possible at any age…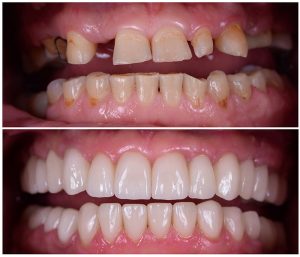 As you get older, tooth loss increases due to reasons such as decay and gum problems. As increasing tooth loss makes it difficult to eat and drink, it has a very negative effect on the life comfort of elderly individuals. Nutritional problems that occur with or without chronic diseases are also the trigger of different health problems.
An implant is an artificial tooth root created with a titanium screw inserted into the jawbone to complete missing teeth. The artificial tooth made on the screw attached to the jawbone is quite durable and permanent.
What Brands and Materials Do We Use in Dental Implants?
Dental Clinic Turkey prefers companies that have been accepted and certified by international dentistry organizations such as FDI, which is internationally prestigious and valid.
At the beginning of these brands, Osteem Dental Implants, Straumann group dental implants and Nobel implants are used. Again, we prefer Nobel products for all our graft and lifting procedures.
What are Full Mouth Implant Treatment Packages?
If you want to get detailed information about your treatment, you can contact our team. A successful treatment can occur in a short time as a result of meticulous work with the help of the digital dentistry system by experienced Physicians in Dental Clinic Turkey.
Get Free Quote
If you ask what should be done for a smile, your doctor should first check your mouth and tooth structure. He will then offer you tailored treatments and answer your question. To get information about beautiful smile, you can call us, fill out our consutlation form or send a message directly via Whatsapp.