Dental Smile in Turkey
Turkey has become one of the leading countries in dental aesthetics. Especially Hollywood Dental Smile has become one of the most preferred methods.
Can those who have problem-free and healthy teeth get a Hollywood Smile?

We see that the Hollywood Smile method puts more emphasis on aesthetics rather than necessity. It is the smile aesthetic that we have designed to have that mysterious smile that fascinates us while laughing, from Angelina Jolie to Leonardo Di Caprio, whom we watch and follow Hollywood movies with admiration. Hollywood Smile; Is it that your unhealthy teeth that you are uncomfortable with the appearance of, are cut or filed and replaced with white teeth? When we evaluate this question, there is a 50 percent accuracy margin. But this Hollywood Smile aesthetic has come to the fore so much that it has become a necessity for people. Now, not only unhealthy and problematic teeth, but also many people with problem-free and healthy teeth have Hollywood Smile Aesthetics in order to have whiter, longer, more visible and more prominent teeth.
How to Make Hollywood Smile?
With Hollywood Smile, it is aimed to have the smile of Hollywood stars. Treatment includes whitening, regulation of gingival levels, removal of tooth deficiencies with implants and bonding applications according to the needs of the teeth, porcelain laminates and porcelain veneers (veneers) to beautify the smile. It requires a complex treatment planning and, in some cases, the collaboration of several specialties. 
What Applications Does Hollywood Smile Include?
Gum Treatments
In the Hollywood Smile application, the first requirement is that the gums are healthy. Adjusting the levels of the gums and aligning them with the smile line increases the success of the next procedures.
Teeth whitening
Teeth whitening should be done in accordance with your skin color, age and wishes. Preferring whiter tones in fair-skinned people and young people increases the natural appearance and aesthetics. If the natural teeth are dark in color, bonding, porcelain lamina or veneers to be made after bleaching will give a much brighter appearance.
Porcelain Veneer
These are the applications that we make on the front surfaces of the teeth without any or very little abrasion of the tooth surfaces. Porcelain veneers are an application performed for teeth that are crooked, intermittent, broken, small and do not have an aesthetic appearance such as yellow. It is a process that can be performed in a short time and the least intervention to the tooth tissue is performed in this method. In this way, the preservation of the tooth structure is ensured.
Zirconium Crowns
Sometimes, teeth should be treated with zirconium crowns in cases where we think that we cannot fix and provide an aesthetic appearance with porcelain veneers. In this process, the teeth can be reduced a little more compared to the porcelain veneer process. It is an application that will meet our expectations at the highest level in cases where aesthetic anxiety and problems are high.
Removal of Tooth Deficiencies with Implant Application
Dental Implants can be preferred to eliminate tooth deficiencies in the smile line. Dental implants are titanium materials that imitate the root of the tooth, placed in the jawbone to treat tooth deficiencies. Thanks to the fact that the implant is titanium, a fully compatible connection can be achieved without any allergic reaction in the tissue.
Who can Hollywood Smile be applied to?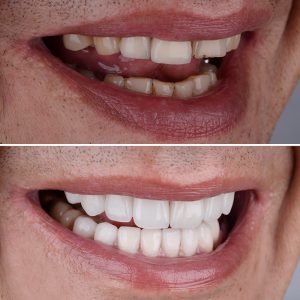 The aesthetic dental smile we call Hollywood Smile can be applied to almost every person (over 18 years old). Only the way of application can change. In some people, the application can be made with no or very little shaving of the tooth. This application can generally be laminated (veneers). For people who cannot be laminated, crown application can be preferred. These are E-max Crowns, zirconium, metal supported coating etc.
Hollywood Smile can be applied to every person, but the application stages may vary according to the mouth structure of the people. When we look at where Turkey is in Hollywood Smile aesthetics throughout the world, it is among the countries where most dental aesthetics are performed and where dental aesthetics are desired.
There are many aspects to the fact that Turkey is among the countries most desired to have Hollywood Smile dental aesthetics. When we examine these aspects, the power of the technological infrastructure for dental aesthetics in our country, the fact that our physicians are productive and have seen many cases, and Turkey is a touristic place.
Especially in a place like Antalya, it is the excitement of the thought of both exploring the city and having a new Hollywood Smile. One of the most important demands is that we are one of the countries that both keep the quality at the highest level and keep the prices at the minimum.
When we see the fact that we are one of the countries where many people living in the world want to have a Hollywood Smile and this demand will increase day by day, we, as Dental Clinic Turkey, see again and again how important and productive our work is for our country. We continue to develop our business and follow new technologies with the excitement of the first day we established our company.
Get Free Quote
If you ask what should be done for a beautiful dental smile, your doctor should first check your mouth and tooth structure. He will then offer you tailored treatments and answer your question. To get information about beautiful smile, you can call us, fill out our consutlation form or send a message directly via Whatsapp.