Dental Implant in One Day with Dental Clinic Turkey
With One Day Implant treatment, you can have your implant done on the same day. One Day Implant treatment is an effective treatment method for patients in a short time. Those who do not want to wait for months with a bad toothless appearance will get their teeth in a short time with this treatment. Patients can continue their lives without being toothless.
With Dental Clinic Turkey, we offer quality treatment in a short time to patients coming from both domestic and abroad within the scope of implant treatment in one day.
Implant treatment is the treatment applied to fill the deficiencies without damaging the healthy teeth in our mouth. The material of the implant is titanium. Titanium is a tissue-friendly metal that has been used in medical treatments for centuries.
Can Implant Application Be Made in One Day?
Implants are one of the most common dental procedures today. Although the implant is one of the treatment methods that requires a certain process under normal conditions, it has become possible to implant in one day thanks to the developments in technology. Implant treatment can be applied to replace the previously extracted tooth or the tooth to be extracted.
If the amount of bone is sufficient after the extraction of the tooth with an indication for extraction, the implant can be made on the same day.
In cases where there is inflammation under the extracted tooth, it is not possible to make an implant on the same day. In this case, after waiting for about 1 month, a panoramic film is taken and a decision is made after the inflammation is resolved and the condition of the bone is evaluated.
The amount of bone in the application area is the most important factor for implant treatment. 3D tomography can be used to determine the amount of bone in the region.
In cases where the amount of bone is insufficient, the area to be added is opened and the amount of bone is increased by using bone grafts taken from the patient's own tissue or bone grafts of animal origin. Bone formation in the area is followed and implant treatment is started when the desired healing is achieved. Another factor that is as important as bone quality for successful implant treatment is the quality of the implant.
Who is Implant Applied to in One Day?
Implant treatment in one day can be applied to patients who neglect it, have wobbly and aesthetically unsightly teeth, although timely treatment should be given. Implant treatment can also be performed in one day for patients who have difficulties in using palatal prostheses, who have problems with osteoporosis due to dental diseases, who have genetically missing teeth, or who have tooth loss for any reason.
Implant in One Day can be used in the following situations
Single tooth implant
Multiple implants
Whole mouth implant
Thanks to implant treatment in one day, it offers an effective treatment method in a short time to both domestic and foreign patients.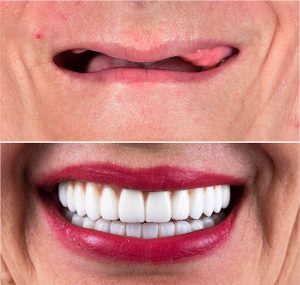 Other suitable patients for treatment are those who have difficulty in using their removable dentures, suffer from osteoporosis due to gingival diseases, genetically missing teeth, and those who have lost a tooth after an accident.
There is another important point that should not be forgotten that implant dental treatment may differ from person to person. This can only be determined by examining the person by the dentist.
This change affects the cost of the treatment as well as its duration. Implant treatment in One Day can only be approved after a dentist's control.
After the treatment, patients get rid of cavities and bacteria in their mouths. With the effect of their new teeth and smiles, they also experience an increase in their self-confidence. However, it should be kept in mind that implant treatment may differ from person to person and the suitability of the person for implant treatment can be decided after a dentist's examination.
Healing Process After Implant Treatment
After the implant treatment is applied, a 3-month recovery period is needed. During this period, it is expected that the bone and the implant will fuse together. After the completion of the three-month period, the healing caps, which are placed on the implant, remain on the implant for one week.
In this way, the harmony of the tooth to be placed on the implant with the gingiva is as natural as the real tooth. When the one-week period is completed, the next step is the measurement phase. Impression can be done with conventional or digital measuring methods. A prosthetic tooth is placed on the implant within a week following the impression process.
Implant treatment is seen by patients as a painful, difficult and fearful procedure. With Dental Clinic Turkey, it is possible to implant in one day.
In our clinic, painless, reliable, high-quality implant procedures are performed under local anesthesia by our expert and experienced doctor staff. All of our implants used in Dental Clinic Turkey are guaranteed certificates, these certificates are delivered to our patients after the procedure..
How Long Does the Implant Tooth Placement Process Take?
On the same day, the implant is a process that takes between 30-60 minutes on average, although it varies depending on the area to be placed and the number of teeth.
Get Free Quote
If you ask what should be done for a smile, your doctor should first check your mouth and tooth structure. He will then offer you tailored treatments and answer your question. To get information about beautiful smile, you can call us, fill out our consutlation form or send a message directly via Whatsapp.